Duck Shooting at Akoranga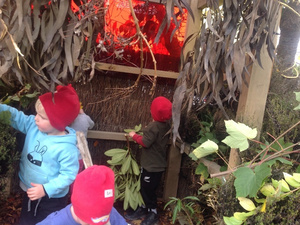 Children experience an environment where:
their play is valued as meaningful learning and the importance of spontaneous play is recognised
they gain confidence in and control of their bodies
they learn strategies for active exploration, thinking and reasoning
they develop working theories for making sense of the natural, social, physical and material worlds.
Duck shooting has arrived at Akoranga. Hunting is a culture that has transferred from homelife into centre life. Our MaiMai was created with the help from families that supplied foliage to use. Together tamariki worked on this common goal. Co-operation and team work was evident as the Maimai came to life.
Decoys were placed in our 'duck pond' to attract other ducks for us to 'shoot.' This provided another play opportunity for tamariki.