Yvonne Wilkinson - Qualified Teacher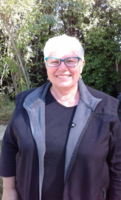 I believe in a collaborative approach to teaching with relationships being the KEY! Research indicates that children learn through their relationships with people places and things…
Therefore I believe in:
Being a passionate, skilled teacher and ongoing learner who takes the time through careful observations and korero with children and their families to discover, understand and cater for children's individual developmental and learning needs in my daily teaching practice.
Building positive, warm reciprocal relationships with al tamariki and their families because relationships have a major impact on children's: Personality, Identity, Social skills and Learning dispositions. Children's early attachment influence how well they play, and learn and relate to others, and are key to giving children a sense of value and belonging and a sense of significance being an important part of something as in belonging and family.
Acceptance, Cooperation's and Responsive interactions, are key factors there fore my primary role is to provide a context where children feel and develop a sense of safety, security and trust worth and value and autonomy, the key to that is my respect for them as individual learners , while being responsive and supportive of their social and emotional needs.
I believe play needs to be an important part of developmentally appropriate child care program, in a child directed environment that is both rich in choice and content, designed to meet all their social physical emotional cognitive and learning needs. Frost (1992) stated that " Play is the chief vehicle for the development of imagination, intelligence, language social skills and perceptual motor abilities in infants and young children."