Olivia Bradley - Qualified Teacher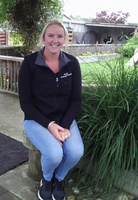 I believe as my role as an early childhood educator, I should care for each individual child and treat each child equally. I will accept all different cultures and respect them and their beliefs. I believe I should take time to listen to each individual and acknowledge what they have to say. I will ensure that each child receives positive feedback each day for something they have done or said. I should learn from the children as well as providing experiences where they can learn from me.
I believe children learn best through play so I will setup both in door and out door experiences so each child can be creative in their own way. I will provide an interesting, stimulating and natural environment for children to carry out the activities and experiences I set up. I also believe that children engage and learn best when they are interested in an activity; so I will observe the children and then extend on their interests and guide them in a positive direction. I will provide a spacious, fun environment that will encourage each child to challenge them selves, take risks, explore and participate in activities when they want to.
I want children to become confident, healthy learners within them selves. I will encourage family/whanau to show interest and become involved in their child's learning as I believe that infants, toddlers and young children will continue to have the increasing support and involvement of their family/whanau.