Erin Gray - Qualified Teacher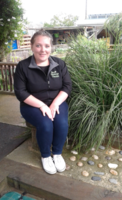 I believe as a teacher I am committed to giving children, family and whānau respect, acceptance and quality education. I feel strongly that the partnership reflected in the Treaty of Waitangi, that we as teachers and parents can provide the best possible environment where social, emotional, physical and cognitive development of all children are met.
I believe consistent communication and working collaboratively with family and whānau provides meaningful interactions, learning opportunities and experiences inclusive of all children. Building responsive and reciprocal relationships are an important support for children and parents in partnership. As a teacher I feel it is important to accept and treasure each child's uniqueness, background and culture, and understand them as a whole, basing an environment where they can grow, learn and develop at their own developmental level. It is very important for me as a teacher to help each child meet their fullest potential in all aspects.
For myself, teaching provides an opportunity for continual learning and growth. I am excited to be able to serve future leaders and will strive to be the best, organised and effective teacher I can, who meets the requirements of my philosophy.