Chanel Potgieter - Qualified Teacher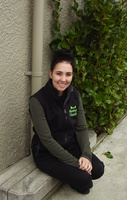 I believe that each child is a unique individual who needs a secure, caring, and stimulating atmosphere in which to grow and mature emotionally, intellectually, physically, and socially. It is my desire as a educator to help children meet their fullest potential in these areas by providing an environment that is safe, and invites a sharing of ideas.
Providing children access to hands-on activities and allowing adequate time and space to use materials that reinforce the lesson being studied creates an opportunity for individual discovery and construction of knowledge to occur.
Helping children to develop a deep love and respect for themselves, others, and their environment occurs through an open sharing of ideas. When the voice of each student is heard, and environment evolves where children feel free to express themselves.
For myself, teaching provides an opportunity for continual learning and growth. One of my hopes as an educator is to instil a love of learning in children as I share my own passion for learning with them. I am such a person and will always strive to be the best educator that I can be.