Anna Woodward - Qualified Teacher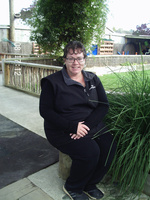 Ko tau rourou
Ko taku rourou
Ka ora ai nga tamariki
With your contribution
And my contribution
Our children will prosper (Author unknown)
My philosophy is based on building reciprocal, caring relationships with tamariki to assist in their learning and development through their interests, in a nurturing environment.
Building respectful, reciprocal relationships with tamariki and whanau through regular communications, in person and through storypark, to install the feeling of belonging for all who come in my care and their extended family. Having a strong relationship with a child and their family is key to being able to extend learning and development through children's interests and family expectations.
I view tamariki as learners who are empowered to explore, grow and develop at their own pace. Treasuring each child's uniqueness and passion to learn. Allowing space and time for each child to find their own path of learning. Caring of each aspect of child's development and growth for a holistic approach.I will continue to learn with and from the tamariki in my care, continually building my skills for the benefit of those in my care.