The Going Bananas Show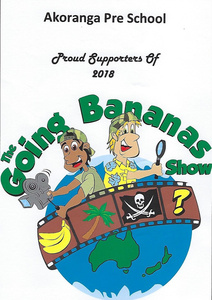 The Going Bananas Show is a stage show that comes to a town near you every year. This is a series of shows based around two lead characters. Follow them each year as they face new adventures in wonderful far away places. The Going Bananas Show strives to bring back the magic of live theatre to regional towns and cities.
Watch the magic in the eyes of the audience light up as they experience something that only a live stage show can bring. We work with hundreds of special needs organisations, that in turn deal with a wide range of children, to select the families that will get the opportunity to attend the show. Generally the children have learning, social, physical, medical or mental ailments.

Southland Show
Wednesday 22nd August 2018 - 6pm
Souhland Boys High, Invercargill

For more information please follow this link: http://www.thegoingbananasshow.co.nz