Children's Day 2015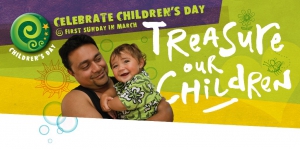 Gore Children's Day
Title: Gore Children's Day
Where: Gore Multisports Stadium and grounds, Robertson St,, Gore
Start date and time : 01/03/2015 01:00 PM
End date and time : 01/03/2015 04:00 PM
Activities: A free family fun day with a variety of activities including aquaballs, merry-go-round, paintballs, slug guns, swimming, ice skating, pony rides, face painting, balloon animals, bouncy castles, bubbleman, radar gun races, toddlers activities, Ki O Rahi, making flax putiputi, clown, ice creams and sausages.
Invercargill's Children's Day at the Fire Station
Title: Invercargill's Children's Day a the Fire Station
Where: Invercargill Fire Station - Jed Street, Invercargill
Start date and time : 01/03/2015 11:00 AM
End date and time : 01/03/2015 02:00 PM
Activities: Lots of fun free activities including; face painting, bubbles, arts and crafts, healthy eating, colouring in, fire safety and loads more. Bring the whole family and take home some awesome creations and memories :)
So join in the fun no matter what day it is in the year, you can make any day children's day.